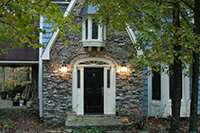 From a valley nestled in the foothills of the Appalachian mountains, beside the crystal clear waters of Spring Creek, Sleepy Hollow Farm produces premium quality medicinal herbs selectively hand harvested from the forest floor and sunny meadows of our organically cultivated farm.

Many herbs are produced at Sleepy Hollow Farm but, our primary crop is Goldenseal (Hydrastis canadensis). Goldenseal is a very popular medicinal herb but over-collection from the wild has decimated many native populations. Our goldenseal has been organically cultivated assuring you of a high quality, sustainably produced product. Please check the label of any goldenseal product you buy. If it does not say it is from cultivated sources, most likely it is not.

Our goldenseal is then processed by our grower owned cooperative, Botanipharm, LLC, to produce a wide variety of products including organic dietary supplements, body care products, and Pet care items.  We invite you to use our secure on-line ordering system and try all of our Sleepy Hollow Farm goldenseal products today. We are sure you will find them as fresh and exciting as Mother Nature herself!!
You may navigate to any of our product information pages by using the Main Menu links in the left sidebar.
Information on special areas can be found at the links below: